E-Andes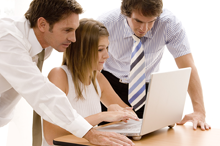 Professionalism
Integrity
High Performance teams
Innovation
e-Andes marketing online is a company that belongs to the Group Bio Andes. The company has a multidisciplinary team with extensive experience in the areas of business modelo design, innovation management, strategic planning, marketing online, IT platforms, digital design and technical experts in diferrent industries as Global services, Biotechnology, Pharma, Agrifood, SMEs , Chemical industries, mining, construction, among others.
This multidisciplinary vision allows us to offer integral and differentiated services to our clients.
Our main executives and professionals are:
•    Lesley Robles Sedán, Managing Director, Engineer University of Chile, specializations in Innovation Management Universidad Adolfo Ibañez, has 10 years experience in the areas of business development, commercial development and marketing online strategies in Australia and Chile for companies in the areas of Biotechnology, Agri-Food, Life Science and Global Services. Before join to e-Andes marketing online, Mr. Robles held several executive positions in State Agricultural Biotechnology Center Murdoch University, Corthorn Quality and SGS.
•    Jorge Rojas Mata, Technical Director: Informatic engineer Austral University of Chile, MSCs in Innovation management University Adolfo Ibañez, Official Certification 70-290, New Horizons (Sonda) , Official Microsoft courses y SQL server SQL server (2072, 2274, 2275, 2276) , has 14 years experience in the areas of IT businesses and development, being executive in Universidad Adolfo Ibañez Chile, USDA Latin-American office, Ingenet and others IT companies. Mr. Rojas has developed and implemented different IT platforms as the academica systems OMEGA in UAI, and the web based SOFOFA Index enterprise.
•   Arturo Eckholt Williamson, Strategic Advisor: Civil Engineer Catholic University  , MBA, with 20 years experience in the management of companies as Endesa, Isapre Consalud, C.Ch.C, being director and consultant of different SMEs companies in Chile.
•   Fernando Romero Clausen, Commercial Manager e-Andes: Publicist with more than 8 years of experience related to marketing online, working with important industries like Playstation, Flor de Caña, Mc Donalds, Chevrolet, Whirlpool, Nestlé, Concha y Toro, just to name a few. Fernando Romero has participated in the development of interactive projects, some of them, winners in one of the most important internet festivals here in Chile, managed by ACHAP (Chilean Asociation of publicity agencies) and IAB (Interactive Advertising Bureau).
•    Felipe Sepúlveda Cordero, Chief Designer, Designer Catholic University of Valparaíso, professional with 2 years experience in websites 2.0 development and marketing online.
•    Loreto Nuñez, Operational executive, Industrial engineer University of Chile, with internal training in email marketing, marketing online and management.
•    Rodrigo Pérez Moya, Multimedia designer INACAP.
•    Enrique Muñoz Hormazabal, Publicist Santiago de Chile University, three years experience developing complete online publicities campaigns for companies as Universidad de Santiago, Colegio manantiales, Panorámica, among others.
•    Ándrés Fuentealba, Web 2.0 programming and IT Support Engineer. Andrés is Informatic Engineer from Inacap.
•    Jonathan Cancino Arauna, Publicist with knowledge on marketing, communications, design and event productions.
•    Laura Ortega, Backoffice, Accountant with 19 years experience in accountability and taxation, 7 years experience in external finance services for Ernst & Young, leading professional team of auditors, 12 years experience in the areas of back office (accountability and finance) in different multinational companies as Ahold group, Direct TV, Uren Food, Van Leer, Sanvick Chile.
Furthermore in e-Andes marketing online we operate under an open innovation system, through partnerships with specialized companies and an international network of consultants.
Coordinate a Meeting
E

-Andes
Eliodoro Yañez 1742, Providencia
Santiago de Chile
T: +56-2-2042034
info [@] e-andes.com
Documents
Links