Career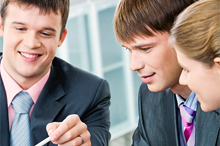 Professional development
Nice working environment
High performance teams
Incentives and results
"Luck is when preparation meets opportunity"
Our values
"Passion and love for what we do, for the people, for our clients and customers of our clients. We believe in excellence and high performance teams focused on growing and sustainable results"
Our mission
"Improve companies' competitiveness through marketing online"
e-Andes marketing online is expanding operations, so continually we are recruiting professionals from different areas. We seek integral professionals, with good executive and technical skills, which enjoy their work, being customer-oriented and with a constant improvement spirit.
We seek between others Engineers, commercial engineers, IT professionals, web designers, publicists, journalists, strategic planners, professionals in the areas of innovation management, consumer behavior, business model design, email marketing, among other areas.
If you think you have these features or that you can develop them with us, we invite you to send your cv to career[@]e-andes.com and a introduction letter explaining how you could contribute to the development of e-Andes marketing online.
Consultants networks
Are you a young or experienced consultant or seller?
We constantly are expanding our local and global network of consultants and sellers. We invite you to be part of our network of consultants and sellers.
Incentives
Do you have important networks or clients needing our services, we offer you very interesting incentives just to recommend us to a client. Furthermore, we have a competitive incentive package strategy for our consultants and sellers.
Write to us or ask for an interview, to discover how you can make money with e-Andes marketing online.
Coordinate a Meeting
E

-Andes
Eliodoro Yañez 1742, Providencia
Santiago de Chile
T: +56-2-2042034
info [@] e-andes.com
Documents
Links